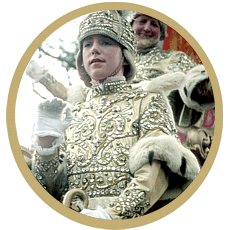 Unit II
Classroom Applications of Fieldwork Basics
By Paddy Bowman, Jocelyn Donlon, Melanie Boulet, Sylvia Bienvenu, Maida Owens, and Jane Vidrine

My culture is no better than anybody else's culture. My people were no better than anybody else. And yet I will not accept it as a second-class culture. It's my culture. It's the best culture for me. Now, I would expect if you have a different culture, that you would feel the same about yours as I feel about mine.
--Dewey Balfa, Acadia Parish
Unit Introduction
When you research and document the culture of your communities, you are undertaking fieldwork. You might do this through interviews, photography, audio or video recording, sketching, or research. There are so many educational advantages to conducting fieldwork with your students that you won't want to pass this opportunity up! Fieldwork builds students' communication skills and enhances their analytical skills. It also builds creativity in students.
Students around the country have done remarkable research projects involving fieldwork. See the Thumbnail Sketches of Student Projects for some examples. Your students can do just as exciting, stimulating projects while learning core skills.
What's more, fieldwork fosters tolerance. By observing and documenting cultural traditions--from family stories to community events--students step outside their own worldview to study how other people conduct their lives. By becoming outsiders, looking inside their own and others' cultures, students often become more tolerant of other folk groups.
Finally, fieldwork develops students into independent, life-long learners by opening their eyes to all they can learn, even in their immediate surroundings-their own home, their own neighborhood, their own part of our state-and by having them rely on their own skills as they interact with people and the work around them independent of the teacher.
It is important for teachers to realize that folklife fieldwork is often complex and sensitive because it touches on people's beliefs and way of life. Students must honor interviewees' beliefs, values, and privacy and learn that trust creates better results.
Fieldwork is an integral part of Louisiana Voices teaching strategies and you will find fieldwork activities in many lessons. This unit draws on activities and worksheets used elsewhere for five lessons that model fieldwork techniques and then asks students to practice and master these techniques. If you want to maximize the learning opportunities that fieldwork offers students, use the five lessons sequentially. Each lesson builds on concepts presented in the previous lesson as students slowly graduate from informal interviews in the classroom to formal interviews in the field. In this unit, we also refer you to other Louisiana Voices lessons with related fieldwork strategies. Unit VII Material Culture - The Stuff of Life and Unit VIII The Worlds of Work and Play are especially focused on teaching fieldwork by having students document foodways and occupations — two traditions that any student can identify to document. In addition, Unit IX The Seasonal Round and The Cycles of Life has students explore life's milestones and community holidays. See below for an inventory of fieldwork activities in Louisiana Voices. Highlighted words link to definitions in the Glossary.
If you would like a quick overview of fieldwork and would like a less structured approach to teaching fieldwork, Fieldwork Basics provides the same fieldwork process more concisely.
Before beginning this unit, access the Interview Folder -- For the Teachers, Field Kit -- For Teachers, and Archive Folders webpages and follow the directions to prepare them for all students. When completed, they will contain all of the materials, forms, equipment, and storage needed for all of the lessons in this unit. Having them ready will make this unit flow easily, as well as simplify the process for your students.
Unit II Lesson 1 Getting Positioned for Fieldwork introduces students to the concept of positioning ourselves as cultural insiders or outsiders in the interview process. Through observation and questioning, students examine their own cultural assumptions and stereotypes.
Unit II Lesson 2 The Practice Interview provides experience in formulating and asking effective questions using a name game. Students learn flexibility in posing different levels of questions, including fact-based, open-ended, and follow-up questions. They are also introduced to fieldwork release forms and equipment.
Unit II Lesson 3 Interviewing a Community Guest discusses how to invite a community guest into the classroom so that students can have additional interview practice before going into the field. Before the guest's visit, however, students practice by teaming up in small groups to interview the teacher about the profession of teaching. Then they prepare for and interview a community guest during class time. After the interview, students label, log, and transcribe their findings. They also respond to fieldwork through reflection and writing.
Unit II Lesson 4 Teams in the Field allows students to work in small groups to conduct fieldwork. In addition to conducting an interview outside the classroom ÿ in the "field", they observe, photograph, audiotape or videotape, sketch, and research. After selecting a research topic and site, identifying interviewees, and arranging logistics, students research their site, formulate questions, conduct an interview, and write about their experiences. They fully process their findings in the next lesson.
Unit II Lesson 5 Making Use of Fieldwork focuses on processing materials collected during the previous lessons and on creating products. Students work in their assigned groups to log, label, transcribe, and interpret their findings. They archive and submit their materials in an accordion file folder. Finally, they produce a product. This lesson offers a technology option of a PowerPoint presentation, as well as a non-technology product of a group poem. It also provides extension suggestions for other options and links to instructions for producing other products in other units and rubrics to evaluate them.
Once again, you will need to adapt the fieldwork process to your students' level. The essays, worksheets, and other materials are written at approximately 8th grade level. For students having difficulty reading at this level, access the Adaptation Strategies for ideas on how to help them understand and learn the content. We have made every effort to provide instructions on how to teach fieldwork so that students can thoroughly undertake projects which supplement your own curriculum needs. Feel free to modify the curriculum for your purposes. Bon Voyage!
For other Louisiana Voices lessons that teach fieldwork, see Looking for Something Specific? For more details and the worksheets used in each lesson, see the Louisiana Voices Outline.