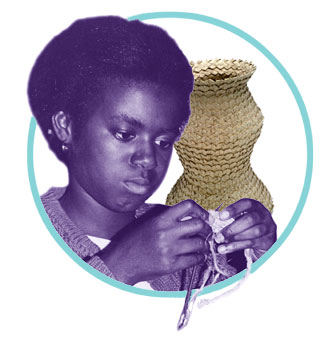 Unit VII

Material Culture: The Stuff of Life

By Paddy Bowman, Sylvia Bienvenu, and Maida Owens

[L'Unité 7 est accessible en Français]

A round basket is just like a person--it has thirty-three ribs when finished. You only lay down thirty-two, but then you have to add another.

--Azzie Roland, Union Parish
from Keeping It Alive

When I was a little girl my paw-paw used to bring the moss in from the swamps and up the bayou on his flat boat and then he dumped it in piles and we had to keep it wet all the time. It had to be continually turned, you had to turn it all the time to keep the bottom from getting hot. They used buckets of water from the ditches and bayous 'cause they didn't have no hosepipes in those days. And, oh, how the children did love it 'cause they got to play in the water. Sometimes though it got out of hand and paw-paw would fuss at us. Then when the black crust fell off the moss they hung it on the cyprus [sic] fence or string clothes lines for it. Then the man from the gin would come around and buy it. I didn't sleep on a cotton bed until 1931 when I got married cause all we had when I was a girl were moss mattresses. But my husband's family they raised a little cotton so they had cotton mattresses.

--Anonymous 80-year-old woman, Lafourche Parish

Unit Introduction

Folklorists use the term material culture to describe the vast array of traditionally made "stuff" in our lives, from afghans to Zulu coconuts, boats to whirligigs. Like "reading" a landscape in Unit IV, "reading" material culture makes students more aware of their surroundings and the importance of learning, teaching, and preserving traditional skills. They learn the value of traditional things and the worth of learning and passing on skills. They gain a deeper sense of place and of their communities' role in history and culture. This unit asks students to look carefully around them, to take measure of things, to identify folk artists and artisans in their communities, to learn a skill, and to teach a skill.

Process and product differ. Students will examine artifacts, but they will also study the process of creating material culture. Like other types of folklife, vernacular (everyday) material culture reveals a great deal about place, time, and folk groups. And, like other types of folklife, we tend to overlook vernacular material culture as we go about our lives. We don't often take note of the aging barn, fresh peach cobbler, handmade crawfish traps, newly braided cornrows, or tightly folded notes that students secretly palm off in class. All these and countless other things are objects that folklorists study--especially the context of the people who make and use them and the processes of making and using them.

What will students learn from studying artifacts and traditional skills? They will learn concepts of continuity and change (motif and variation), since the makers of some artifacts keep the same technique, materials, and style over generations, while others glibly improvise on old traditions or create new traditions. They will learn where traditional skills and material culture fit in their own lives, their communities, and the state.

Louisiana's diverse folk groups, history, and geography affect material culture, just as they affect other types of folklife. Natural materials indigenous to a region influence what people can make, when they can make something, and how they vary a tradition that comes from elsewhere. Again, the complex process of creolization influences the material culture of the state, yet some traditions remain more unchanged than others.

The many online resources such as slide shows, essays, and websites are only one way for students to explore material culture from all regions of Louisiana. They will also identify and study material culture in their homes and communities. And they will explore the concepts of utility, aesthetics, and context of material culture from the familiar, such as foodways, to more obscure objects and skills new to students. Students will explore past and current foodways and food production and distribution in their communities and around the state.