Unit II Classroom Applications of Fieldwork Basics
Lessons 3 and 4
Individual Roles in the Field
LEAD INTERVIEWER and NOTE TAKER
Interviewer ____________________________ Date _______________
Interviee _______________________________________
TASKS
At the interview, introduce yourself and the group.
Before you begin the interview, read the Oral Release Form into the audio recorder.
Coordinate with the audio operator to perform a "sound test."
You will ask most of the questions, but be courteous and allow others to ask questions also.
At the end of the interview, ask Interviewee to sign the Written Release Form.
During the interview, take notes on key words and ideas.
After the interview, thank the interviewee.
CHECKLIST: Did you:
____ Organize your materials in advance?
____ Introduce yourself and all the members of the group to the Interviewee?
____ Begin the interview by reading the Oral Release Form into the tape recorder?
____ Stop the interview so that the audio operator could test the audio recorder, making sure that the Interviewee could be heard and that the equipment is working properly?
____ Lead the interview by asking most of the questions, but allowing all group members to participate?
____ Take notes by writing down key words and phrases, making sure that you spelled special terms and names correctly?
____ Have the Interviewee sign the Written Release Form at the end of the interview?
____ Thank the Interviewee for his/her time?
____ Conduct the interview in an ethical, courteous, and respectful manner?
____ File every piece of paper from this Interview in the Archive Folder?
____ Write and send the Interviewee a thank-you note?
MATERIALS AND EQUIPMENT
____ Journal paper and clipboard, Notetaking Forms, or laptop computer
____ Pens and pencils
____ The list of questions generated by your group
____ Folklife Interview Form, Written Release Form, Oral Release Form
____ Stationery for thank-you note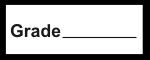 For a PDF of this page click here.