Unit II Classroom Applications of Fieldwork Basics
Lessons 3 and 4
Individual Roles in the Field
TAPE OPERATOR and LOGGER
Interviewer _______________________________________ Date _________________________
Interviee _______________________________________
TASKS
Set the index marker to ZERO.
Check the audio recorder. If possible, use an external microphone and headphones.
Position the microphone near the Interviewee for the best sound.
Pause to check the sound level and the equipment at least once.
Label the tapes with names, date, and setting.
Observe the battery power.
During the interview and while the recorder is running, fill out an Audio Log.
CHECKLIST: Did you:
____ Place FRESH batteries in the audio recorder?
____ Test the machine in advance to ensure that it is working properly?
____ Place the microphone close to the Interviewee? (If possible, use a microphone that plugs into the machine, rather than a built-in one.)
____ Set the counter to ZERO?
____ Pause the recording to test the recorder after the Oral Release Form was read, ensuring that you can hear the Interviewee and that the equipment is working properly?
____ If headphones are available, did you listen to the entire interview through headphones so that you could continually check the sound?
____ Fill out a Audio Log, listing key subjects, and match the subjects with the counter?
____ Monitor the battery power?
____ Label the audio file with names, date, and setting of the interview? See the sample below?
Community Guest's Name. Nov. 23, 2012. Greenfields Middle School, Greenfields,Louisiana
MATERIALS AND EQUIPMENT
____ Audio recorder(s) or video camera(s)
____ Microphones
____ Headphones
____ Extra batteries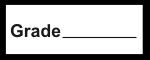 For a PDF of this page click here.