Teacher Spotlights: Kristin Kaufman, McKinley Middle Magnet, East Baton Rouge Parish
by Jocelyn Hazelwood Donlon
Kristin Kaufman recently discovered the Louisiana Voices folklife curriculum, and in this short period of time, she has mined the curriculum—particularly its focus on oral traditions—for its many resources. In the summer of 2002, Kristin applied to participate in Louisiana Voices' NEH grant, "Folklife Studies for Louisiana School." Teams of teachers from Iberia, West Feliciana, and East Baton Rouge Parish were invited to submit applications to participate in the year-long project, which would offer twelve teachers the opportunity to intensively study the folklife of Louisiana and to develop additional methods for employing folklife in the classroom. Kristin, who is in her first year at McKinley Middle Magnet School in Baton Rouge, applied with other teachers on her team. When her team was accepted and received their reading materials, she became familiar with Louisiana Voices, and has since discovered a wealth of information to be used in the classroom.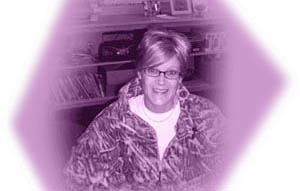 Having spent seven years as a Language Arts teacher—working with students from kindergarten to high school—Kristin understands the difficulty of finding a variety of resources to keep young students engaged and stimulated. "I am constantly searching for anything that engages my kids," she says. "The year 2003 is different from when I was in school." She was excited about Louisiana Voices because it can be used to discuss the here and now. "It relates to them. Once you get in, you can branch out."
Kristin graduated from LSU in Secondary English Education, and has taught at Winbourne Elementary, Central High School, and Zachary High School. At McKinley Middle Magnet, she teaches seventh and eight grade. Rather than focusing on the differences among students at different grade levels, Kristin marvels at the similarities in children from K-12. "Their behavior is so similar in so many ways," she says. Nevertheless, she prefers the middle-school curriculum because of its adaptability and flexibility. Kristin "loves the freedom" of her curriculum, so it is no wonder that she has effectively used Louisiana Voices, which offers flexibility and encourages adaptation. As Kristin says, "It is very teacher friendly."
The first unit Kristin undertook was the activity on "naming traditions" in Unit III: Discovering the Obvious: Our Lives As the Folk. When she first introduced the unit, she talked about a person's heritage and culture, and one student's revealing response was, "I didn't know I had a heritage." Part of what drove the student's comment was a matter of maturity. But part of it was also cultural.
Kristin's seventh-grade students come from neighborhoods that are relatively closed off from the outside world, operating at the lower end of Maslow's hierarchy—seeking safety and survival rather than self-actualization. Very few of her students feel regional ties to Louisiana because they have few opportunities to broadly experience cultures outside their own worlds. The theme of her classroom is "A Window to Our World," and Kristin strives to help her students to better understand the small world of their neighborhood as well as the larger world which surrounds and shapes it.
Using Louisiana Voices to place students' personal traditions in a larger cultural context, Kristin first had them do the Online Scavenger Hunt in Unit I. This scavenger hunt asks students to identify resources on the Internet related to Louisiana folklife, and the students very much enjoyed the competition of the exercise and learning about different regions in the state. "Before this, they didn't know that Louisiana had different folk regions," she said.
The specific activity on naming traditions was an opportunity for Kristin to reinforce connections between the local and the global; by starting with the history of their own names, students were able to see how naming traditions change according to place and time. To help students better understand their personal heritage of naming traditions, Kristin had them talk to family members to learn the story of how they were named. Students were excited to discover that they were "named after an uncle." Her student from Nigeria, whose name was markedly different from everyone else's, provided a wonderful example of how people's names are drawn from cultural heritage.
Kristin also helped the students to research the meanings of their names online, and had them write their names in calligraphy. Once Kristin had them research different traditions, she was able to say, "This is a Louisiana-French name, this is an English name, and so on." For literary examples, the students read Alice Walker's short story "Everyday Use" to discuss the importance of names in one African-American family. And they also used The House on Mango Street by Sandra Cisneros to learn about naming traditions in a Hispanic culture. Kristin was able to confront cross-cultural stereotypes by discussing different naming traditions. "This is very sensitive for some students," she said, "but it helps to understand how people are judged." This discussion revealed how people are "insiders" and "outsiders" of some cultures.
Kristin's students were also excited by discussions of New Orleans, based on Kristin's fieldtrip to the city with the NEH project. The group of teachers went to New Orleans to learn more about the Creole architecture—particularly plastering and stucco traditions—of the Seventh Ward. Kristin was able to share what she learned with her students, and this was one exercise that helped to make material culture more accessible to them. "At first, they just didn't get it," she said. "But when I asked them to think about the buildings they have seen in New Orleans, they became more excited."
Perhaps her most successful use of Louisiana Voices has been with the lesson on urban legends, taken from Unit V Oral Traditions: Swapping Stories Lesson 4, Tall Tales and Urban Legends is one of the students' favorites. "They've all seen Scary Movie and Scary Movie II," she said, "and they've all gotten chain-letter emails, so their knowledge was extensive." She also downloaded urban legends from the Internet to distribute to students. The students really enjoyed discussing urban legends from the region. Kristin told them about her personal experiences, which increased the rapport between them. As she told it:
There's this graveyard in Springfield, Louisiana. The story goes that there were a bunch of children playing in the street, and a child was killed by a passing car. But nobody knew who did it, so they buried this child. And the next day, when the mother went to the graveyard to grieve, on the back of the headstone there was a sketch, a diagram, of the accident, showing what had happened. Apparently a stonecutter said that it couldn't have been done in one night. There is some sort of diagram on the stone. I've actually seen it. But I don't know if I can tell exactly what it is supposed to be.
Next year, Kristin plans to go to the graveyard to photograph the site for her students. She also talked about a local legend in Baton Rouge. "We talked about an urban legend that Satan worshippers all live on Frenchtown Road in Central, and I used to live out near Frenchtown Road. It is kinda spooky," she said.
Kristin did not rely on the Internet and personal experience alone. She found books on urban legends, such as Jan Brunvand's collection The Vanishing Hitchhiker, and had students read the written stories. Best of all, though, the students loved hearing her tell stories. "It was story time for them." Interestingly, the students did not have urban legends from their own neighborhoods to tell or even from Baton Rouge. They enjoyed learning more about the areas around them.
Before studying urban legends, Kristin used Unit V, Lesson 1, An Introduction to Oral Narratives. This lesson in Louisiana Voices provides ample background resources on folktale traditions in Louisiana, and connects them to the larger world. The students read "Brer Rabbit," as well as other traditional tales. They read African and Cajun folktales, recognizing similarities between them even though they come from different parts of the world. With this lesson, Kristin's students were asked to write their own folktale, making up their own with animal characters, an exercise which they very much enjoyed.
Conscious that teaching is about more than student enjoyment, Kristin has been mindful of meeting the State's benchmarks and standards. Some that Kristin has met while undertaking these units are:
Reading, comprehending, and responding to written, spoken, and visual texts
Interpreting texts to generate connections to real-life situations
Writing a composition that clearly implies a central idea with supporting details in a logical, sequential order
Telling or retelling stories in sequence
Locating and evaluating information sources
Identifying, comparing, and responding to United States and world literature that represents the experiences and tradition of diverse ethnic groups
Kristin says, "You can include grammar and mechanics in any writing assignment. I rarely do whole lessons on grammar; instead, I use their actual writing assignments to discuss it." More than anything else, she stresses critical thinking, asking them to make connections between lessons they have studied and to evaluate the world around them.
One of the requirements of the NEH grant, "Folklife Studies for Louisiana Schools," is that teachers prepare a final project which augments the Louisiana Voices curriculum. Kristin, because she is a Language Arts teacher, has decided to identify literary texts that can be used in some of the existing units. English teachers will certainly welcome her contribution. She has already started her list with the works of Sandra Cisneros and Alice Walker, which she used this year.
Currently, Kristin has applied for a grant to undertake an oral history of the bus boycott in Baton Rouge in the 1950s. If she gets the grant, her students will have the opportunity interview local residents in order to hear their stories about this historical event. And Kristin will use the Louisiana Voices curriculum to help her design the oral history. Kristin is an energetic teacher who must certainly inspire her students. For a brief period of time, she actually left the field of teaching to work in development and fundraising. But she was soon pulled back to the career most near her heart. As she says, "I am a teacher, without a doubt." Without a doubt, her students at McKinley Middle are fortunate to have her.